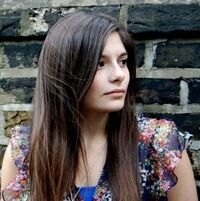 Georgina Leonidas (born February 28, 1990) is a British actress known for playing Miss Molly in The Basil Brush Show and Katie Bell in Harry Potter and the Half Blood Prince. She returned as Katie Bell in Harry Potter and the Deathly Hallows Parts I and II. Due to her commitments to filming Harry Potter, she didn't appear as a regular during the sixth and seventh series, only appearing for 6 episodes in series 6 and 2 episodes in series 7.
Links
Ad blocker interference detected!
Wikia is a free-to-use site that makes money from advertising. We have a modified experience for viewers using ad blockers

Wikia is not accessible if you've made further modifications. Remove the custom ad blocker rule(s) and the page will load as expected.