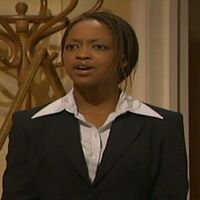 Ella is a young women who appeared with the show, first appearing in series two's first episode, Ella and becoming a recurring character, appearing in numerous episode.
She lives in her flat which is in the same Apartment building as the main characters, living above Stephen's Flat. She is shown to be good friends with Molly, often being seen hanging out with her.
Ad blocker interference detected!
Wikia is a free-to-use site that makes money from advertising. We have a modified experience for viewers using ad blockers

Wikia is not accessible if you've made further modifications. Remove the custom ad blocker rule(s) and the page will load as expected.